Welcome to the 'Kate Liley' website. You will find this little corner of cyberspace useful if you are looking for any of my 'Student Support' sites, my CV, papers or presentation, or information about any of the other activities I engage in or support.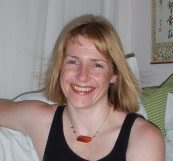 The Curriculum Vitae speaks for itself. Email me should you require further information.
My 'Personal' page has a few photos so visitors can put a name to a face.
The 'Papers, Presentations and Resources' page features websites I've developed content for, lecture material and recent/forthcoming academic presentations.
'Stuff du Jour' is the page for current work related activities.
I am currently writing up my PhD thesis and recovering from a knee reconstruction. When I'm not 'putting my feet up', I can be found coaching and training in Ju Jitsu with Sakura Ryu Ju Jitsu, and I'm also known for my artwork and murals in rare instances of 'spare time'.